DISCLOSURE: This post may contain affiliate links. This means I will get a small commission if you make a purchase through one of the links at no cost to you and with no increase in the price you pay.
Are you looking for a pair of slippers to make your mom comfortable at home or while outdoors? If the answer is yes, then, you have come to the right place!
There is nothing like having your feet in cozy slippers as soon as you wake up in the morning or when you return home after a long day at work and your mom will love any of the slippers we have reviewed below
Whether you are looking for slippers that have a soft, cushioning or a warm feel, reading our review will help you make an informed choice.
Our picks for the Best Slippers for Mother's Days 2022
The Nootkas' Felted Merino Wool Slipper may be on the high end of the market, but they are surely worth it. These slippers come in a variety of colors. The material used in the construction of these slippers is high quality, which makes them exceptionally durable and long-lasting. There are no dyes used in the natural wool felt, making it completely organic. The slippers are warm, breathable, comfortable, and bacteria resistant to wear.
Super comfortable and cozy to wear
Insulating qualities
100% natural wool
Warm and dry feet because of the breathable wool upper
Lightweight and very quiet
Easy slip-on and off design

Not machine washable
Indoor use only
Stegmann is an iconic wool clog brand that inspires an almost cult like following amongst their fans. Stegmann's classic 108 wool clog is their most popular design and has over 10 colors to choose from (new colors come our each season). The EcoWool clog is based on the 108 design but does not include the ribbon along the top. Additionally, and most importantly, the EcoWool is made using undyed wool that comes from 100% pure, all natural wool sourced from small European farms practicing sustainable and cruelty free farming. The wool is minimally processed, dye and chemical free. Made in Tyrol, Austria in a carbon neutral, zero waste facility.
If you want the EcoWool look but are interested in a style that has other colors, check out the Essenz or Stegmann's line of leather clogs.  See the entire women's line up here.
This is the perfect gift for mom that shows you love her and you love the environment.
Use code STAYHOME10 for 10% off!
Classic Clog Design
Extremely comfortable
Great for plantar fasciitis
Merino Wool
Long Lasting
Great Value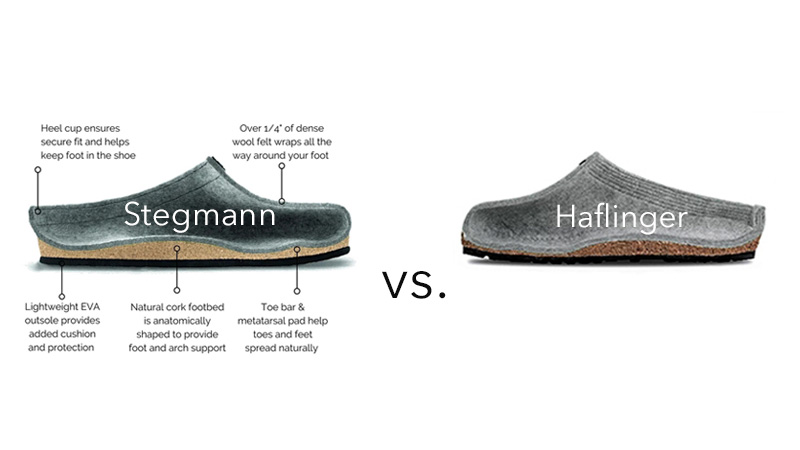 Have you ever wanted a pair of clogs? Take a look at Slipper Scout's comprehensive head-to-head review of two of the most popular clog bands – Stegmann vs. Haflinger!
If you are looking for a comfortable and fluffy pair of slippers, the HALLUCI Women's Slippers are your best choice. It is very relaxing for your feet. The slippers are not only ideal for indoor use, but they can also be used outdoors.
The top part of the slippers is extremely soft and the hard bottom is made of synthetic sole making it perfect for outdoor use.
Its elegant design makes it an excellent gift item for friends and family. The insole is made of memory foam to relax your feet after a stressful day.
It is waterproof and anti-slip. It also prevents the scratching of the floor.
The slippers are available in four sizes – small, medium, large and extra-large.
Elegant design
Comfortable to wear
Perfect for both indoor and outdoor purposes
Waterproof and anti-slip
Hand washable
Very cute and soft
Fits perfectly

It has a strong chemical smell
No machine wash
The pair of slippers is not only affordable, but it is also comfortable, long-lasting and made from high-quality materials.
It features memory foam insole, faux-suede top and heavy faux fur lining. It is amazingly soft and warm when worn. It is well cushioned for unparalleled coziness.
This is an everyday pair of slippers. It is made robust and sturdy for durability. It fits perfectly and elegantly too.
Elegantly-designed
Affordable and long-lasting
Made of quality materials
Incredibly soft on the feet
Excellent for indoor and outdoor use

Can be slippers
Not heavily padded
RockDove Women's Original Two-Tone Memory Foam Slippers are ideal for both indoor and outdoor use. With the anti-slip feature, this pair of slippers can prevent you from slipping and falling.
They also come with an anti-shock feature to minimize impact whenever you stumble or hit an object. Made from natural rubber, the footwear is designed to last long.
When it comes to cleaning, the slippers are easy to clean as they are machine washable.
Made from natural rubber for durability and sturdiness
Perfect for indoor and outdoor
Anti-slip design
Machine washable
Breathable and comfortable

The sole is not very thick 
If you are looking for a pair of slippers that is highly versatile for indoor and outdoor, the UGG Women's Slide Slippers is your best bet. Its design is a combination of slippers and sandals.
Made from sheepskin, the slippers are comfortable and relaxing to the feet. This footwear goes well with your midi dresses and jeans. The rubber insole and outsole are strong enough to last for a long time. It has an elastic strap to give you a perfect fit. This is a unisex pair of slippers.
Easy to clean by hand
Cozy to wear
Well padded footbed
Lightweight and soft

Not machine washable
Not suitable for frequent outdoor use
Make a statement of style and comfort with the Jessica Simpson Women's Slippers. This pair of slippers has a luxurious look and comfortable.
The scuff design gives your feet the relaxation they need after a tough day at work.
It comes in different colours to meet your style. The colours include purple, pink, tan, black and grey.
It is machine washable making it easy to wash. The non-slippery design fits your feet like a hand in glove.
The cushioning is made with memory foam to keep your feet at ease all day long.
The various sizes include small, medium, large and extra-large.
Cute and fluffy
Comfortable to wear
Non-slip design
Extremely soft
Easy to wash by hand and machine washable

The sole has little padding
Memory foam is thin
Dearfoams Rebecca Microfiber Velor slippers are well cushioned to pamper your feet. It is the kind of comfort that your feet deserve after a hectic day. The slippers are made with durability in mind. The insole is sturdy enough to serve both indoor and outdoor use.
Its closed-back design stands it out from the crowd. The closed-back gives you a perfect fit with an excellent grip. The rubber sole is designed to last for a long time. This is a pair of slippers that fit any style.
Cushioned with memory foam for extra comfort
Durable sole and insole
Easy to clean
Fun design
Suitable for both indoor and outdoor use

Can feel snug after wearing a while
Soles may crack after sometime
Design may not appeal to everyone
The ULTRAIDEAS Women's Memory Foam Slippers does not just look cool, it is also stylish and comfortable. It has a relaxing feel that makes it ideal for indoor and outdoor use.
This pair of slippers is heavily padded with memory foam so that you feel like you are stepping on a mattress. The slippers are made with a non-slip hard rubber sole to help you walk steadily yet, it is lightweight.
When it comes to caring, the slippers are easy to care for. It is machine washable.
It is odor-free
Hard and durable rubber sole
Anti-slip and waterproof bottom
Safe to use on wet floors
Padded with high-density memory foam
Machine washable
It is stylish and cute

The sole is thin
Bows loosen up easily
If you are looking for long-lasting comfort for your feet, the SOLLBEAN pair of slippers is an excellent choice. These slippers relieve you from feet problems. It comes with arch support to give your feet great comfort. It can be used both indoor and outdoor. 
Your feet feel warm all day long with the soft fur. This is a unisex pair of slippers.
The deep and narrow heel cup supports your feet effectively when you are walking. With a shock absorber sole, this pair of slippers can minimize shock especially when you step on hard objects.
Excellent Arch Support
Warm and comfortable
Excellent for both indoor and outdoor
Velcro strap allows you to adjust the fit

Additional arch support makes the rest of the sole feel hard