DISCLOSURE: This post may contain affiliate links. This means I will get a small commission if you make a purchase through one of the links at no cost to you and with no increase in the price you pay.
 UGG and Bearpaw are two popular brands that manufacture UGG boots. And while their quality peaks for themselves, having to choose between both of them can be a difficult choice. Lucky for you, though, we have gone through both their boots and slippers to help you make a better decision.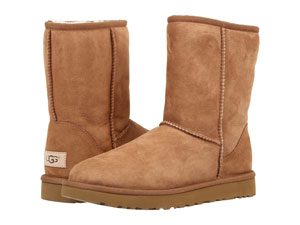 Seeing how the most well-known product from both brands is their boots, that's a great place to start. UGG, as an American company, started in 1978, produces various types of clothing and accessories other than their UGGs. It is very much a trendsetter and is one of Oprah's favorite boots as well.
Bearpaw, on the other hand, is a lot less about trendsetting, and more about providing a good product to their customers. They offer an affordable solution to your comfy and fashionable needs. Moreover, Bearpaw also offers alternatives to the different types of materials that they use, in case you don't want to wear shoes made from animal skin.
Now, with major differences between both contestants settled, here is how their boots differ from each other.
Options and Variety
When it comes to variety and the choices that customers have, UGG is more of a purist brand that doesn't stray too far from the UGG formula. While they do provide a variety of footwear other than their signature boots, the UGGs are more or less the same with slight design and color changes.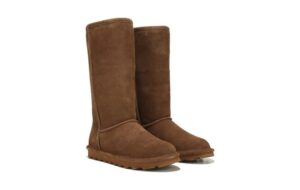 As for Bearpaw, they do not specifically use animal skin or fur for their boots, which allows them to experiment and play around with their design. They also have various styles of cozy footwear, along with a stunning variety of UGG boots. What is more impressive is that they also use wool and fur substitutes, allowing people to get a similar level of comfort without purchasing a product made from animal fur or skin.
Durability
While both UGG and Bearpaw boots are incredibly well-made, as both companies produce quality goods, UGG is simply superior in its build quality. Their shoes sport premium leather and expert craftsmanship, which allows them to last much longer.
Comfort
Now we move onto the real reason why people buy UGGs in the first place, comfort. And the good news is, boots from both companies are incredibly comfortable despite their difference in price. Even with Bearpaw's substitutes, there is only a slight difference in comfort. So all in all, in terms of comfort, at least, Bearpaw and UGG are very similar.
Price
Now onto the most important factor for most people when they are buying their shoes: the price. And when looking at both brands, the first thing that you will notice is the considerable difference in price between them. More specifically, UGG's boots are a lot more expensive than Bearpaw's boots. Of course, a major reason for that is UGG using premium materials throughout their products.
Look and Style
The look and style of both brands are mostly similar, as they both deal in UGGs. However, there is a noticeable difference between the two, as Bearpaw boots feature visible stitching, whereas UGG does not. So if you are looking for a considerably smoother and sleeker style of boots, then UGG has got your covered.
Round 2: Ugg vs Bearpaw Slippers
UGGs aren't the only types of shoes that these brands make – they delve into various other types of footwear as well. And while boots may not be everyone's cup of tea, it is hard to say no to some cozy UGG slippers. So in this round, we will focus on their second most popular product, the various comfortable slippers that they make.
The Stitching and Build Quality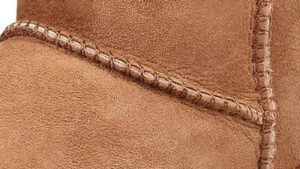 Let's start with the stitching and the build quality of UGG and Bearpaw. Both of these brands offer incredible build quality with their slippers. Of course, you're not going to go out of the house on an adventure in them, but they're good for what they do.
As for stitching, UGG offers a very smooth look where you cannot see the stitches. On the other hand, Bearpaw takes a lot of pride in their stitching and place it front and center throughout their products. You can say that both boots and slippers share their respective stitchings.
Comfort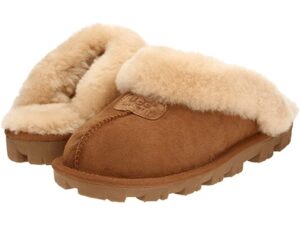 Similar to UGG boots, people only buy these slippers for one reason: comfort. Waking up to a cold morning and getting your feet in one of these slippers can feel incredible. And you will be happy to know that, similar to their boots, both UGG and Bearpaw are equally comfortable. Of course, some may gravitate more towards the immensely cozier sheepskin or wool. But for the most part, slippers from both brands are very comfortable to wear.
Variety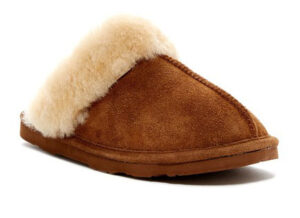 When it comes to variety, Bearpaw is not as versatile as its competitor UGG. While it offers Loki slippers as well as Indio and Moc slippers, UGG offers Tasman and Kenton slippers, Duge Slip-ons, as well as slides, among various others. And that is nothing to say about the sandals or the various slippers that you can find in the women's section. So in terms of variety, you know that UGG has you covered.
Price – Ugg vs Bearpaw
Now, this may not come as a surprise, but UGG is significantly more expensive than Bearpaw. Bearpaw is almost half the price of UGG and offers more or less the same amount of comfort. However, UGG does make up for that price with superior materials and more variety, so it does come down to you in the end.
Which One Is Better: UGG vs Bearpaw?
UGG and Bearpaw, despite selling similar products, are very distinct from each other. One is a designer brand that Oprah wears, whereas the other is an affordable brand that offers great value for its price. Therefore, it's really hard to pick an objective winner here.
For a lower price, you would get comfortable boots or slippers that are well built and comfortable. And for a higher price, you can get a superior product that has much better material, and more variety than its counterparts. So, in the end, we leave that decision off to you.
UGG and Bearpaw are different companies that make similar style boots and slippers. Bearpaw are not fake UGG boots in that they do not attempt to sell their boots as a genuine UGG product. Rather, Bearpaw makes a similar style boot that UGG is famous for.
UGG only uses suppliers that meet their standards of ethics which requires that anyone working with UGG must use humane animal treatment in order to prevent animal abuse and animal cruelty.
Bearpaw has teamed up with PETA to ensure that their suppliers animals are ethically treated. Recently, Bearpaw has discontinued the use of rabbit fur.